View commentaries on this research
---
This is a plain English summary of an original research article. The views expressed are those of the author(s) and reviewer(s) at the time of publication.
Around two-thirds of family carers of people with dementia experience loneliness. Almost half are moderately lonely and a fifth are severely lonely, reports one of the first large scale studies to look at this issue.
Carers who felt lonely tended to have lower wellbeing, smaller social networks, and more stress associated with caregiving. A poor-quality relationship with the person with dementia was also linked to higher levels of loneliness.
Interventions to identify, prevent and reduce carer stress, and to improve the quality of carers' interpersonal relationships, may help reduce loneliness. This may be particularly important while lockdown and social distancing measures are in place because of COVID-19.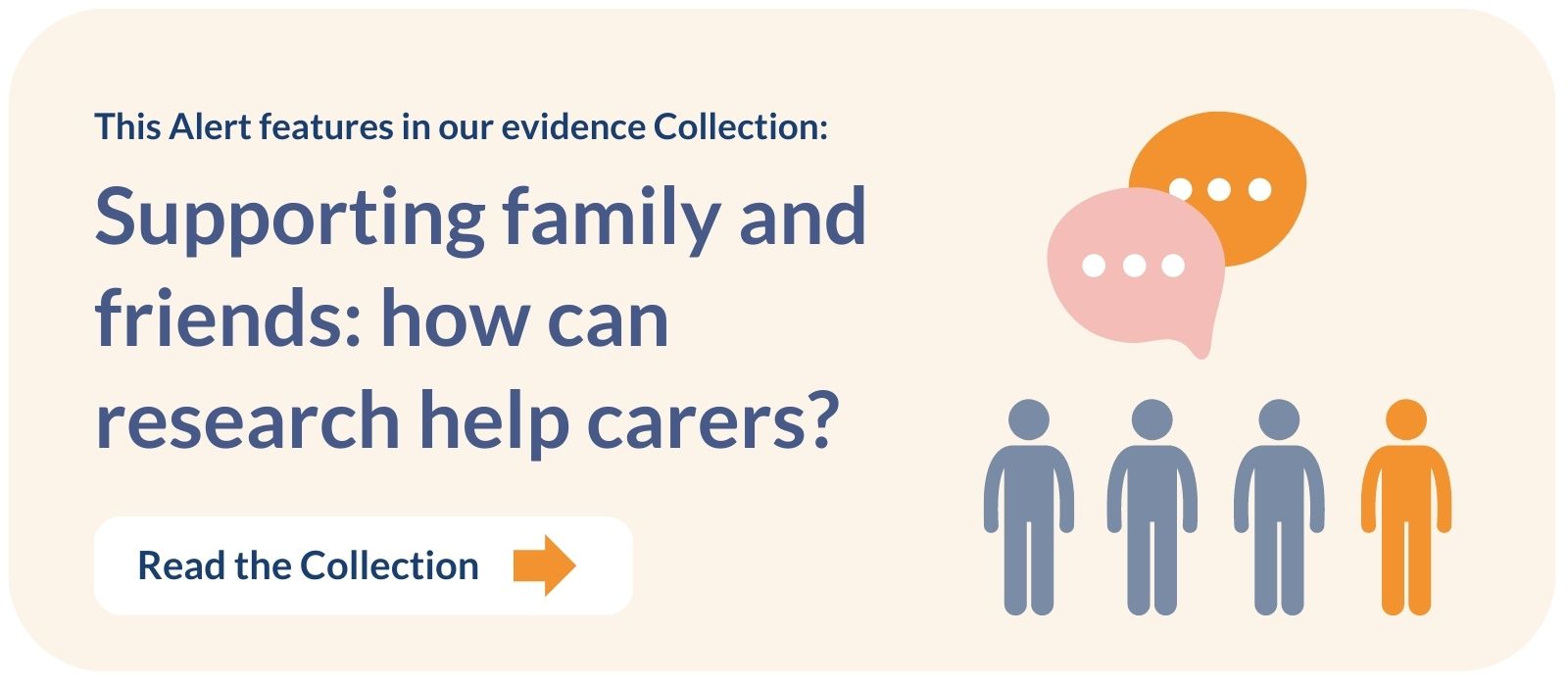 What's the issue?
Around 700,000 people provide informal, unpaid care for a family member or close friend living with dementia. Many of these carers are thought to experience loneliness, although little is known about the extent of the problem.
Loneliness is a distressing emotion and a serious public health issue. Research links it to poor wellbeing, heart disease, stroke, depression, and cognitive decline and early death.
COVID-19 is having a huge impact on family carers. During the lockdown, many have not  had a break from caring because there has been no respite care, when others look after the person with dementia. Carers have been unable to make visits to their friends and relatives. Many have worried about the wellbeing of their relative during the crisis. Alzheimer's Society reported on 29th April, 2020, that 80% of calls to their support line were about coronavirus issues. They received over 4,000 calls in March alone.
Researchers involved with the IDEAL (Improving the Experience of Dementia and Enhancing Active Life) project wanted to find out how many of those caring for people with dementia felt lonely. They also wanted to identify factors which make carers feel more or less lonely.
What's new?
The researchers used information provided by 1,283 carers of people living with mild-to-moderate dementia who had taken part in the IDEAL project. Carers were either family members, friends, or other supporters of someone with dementia. The majority (81%) of carers were the spouse or partners of the person with dementia.
Carers completed questionnaires to rate their feelings of loneliness, life satisfaction, mood, how much support they received from family and friends, care-related stress, and the quality of their relationship with the person with dementia.
Researchers collected demographic information, including age, sex, education level, time spent caregiving, and whether the carer lived alone.
Almost two-thirds of carers reported being lonely, compared to around one third for the general population of older adults.
44% of the carers surveyed reported moderate loneliness
18% reported feeling severe loneliness
Factors associated with higher levels of loneliness were:
social isolation
stress experienced by carers
poorer wellbeing
the quality of their relationship with the person with dementia.
There was also some indication that male carers were more likely to report loneliness than female carers.
Why is this important?
This study revealed a greater understanding of the main factors which influence loneliness.
Finding ways to address social isolation, stress, low mood and relationship quality between the caregiver and receiver of care could reduce loneliness. This would help improve the wellbeing of hundreds of thousands of family carers.
The authors suggest that healthcare providers and other organisations need to develop psychosocial interventions to identify, prevent and reduce carer stress, and improve the quality of the relationship between carers and people with dementia.
What's next?
The study found links between carer loneliness and specific factors, but these are not yet confirmed. The IDEAL project is continuing to examine the effect of loneliness as more data becomes available.
Carers interviewed in this study were largely white and British. The authors highlight the importance of studying loneliness in black and minority ethnic groups in future.
IDEAL researchers are carrying out two further studies to look at the impact of COVID-19. This research will help identify any COVID-specific changes to carers' loneliness. In-person services such as respite care were replaced by online support during the lockdown. The authors think this may have led to increased feelings of loneliness for many carers.
You may be interested to read
The full paper: Victor CR, and others. The prevalence and predictors of loneliness in caregivers of people with dementia: findings from the IDEAL programme. Aging & Mental Health. 2020:1-7
Carers: Looking after yourself, Alzheimer's Society
The IDEAL project website with full details of the study and publications.
The INCLUDE project: an addition to the IDEAL programme exploring the impact of COVID on people with dementia and their carers.
A connected society: A strategy for tackling loneliness, the Department for Digital, Culture, Media and Sport 
Funding: The IDEAL study was co-funded by Alzheimer's Society and the Economic and Social Research Council (ESRC).  It was supported by NIHR Dementias and Neurodegeneration Speciality (DeNDRoN) and Health and Care Research Wales.
Conflicts of Interest: The study authors declare no conflicts of interest.
Disclaimer: NIHR Alerts are not a substitute for professional medical advice. They provide information about research which is funded or supported by the NIHR. Please note that views expressed in NIHR Alerts are those of the author(s) and reviewer(s) and not necessarily those of the NHS, the NIHR or the Department of Health and Social Care.
---