View commentaries on this research
---
This is a plain English summary of an original research article
Researchers looked at whether people with inflammatory conditions could pause methotrexate treatment for 2 weeks immediately after the COVID-19 booster. They found that people who paused methotrexate had a better immune response than those who continued.
Many people with inflammatory conditions (such as rheumatoid arthritis or psoriasis) are treated with methotrexate. This drug turns down the body's immune response and helps reduce inflammation. It is possible that methotrexate could reduce the protection that vaccines give.
The improved immune response in the paused group was similar for all age groups, for people with joint or skin conditions, and whether or not people had previous COVID-19. Quality of life was similar to the group who continued treatment.
Find out more about the study in our infographic.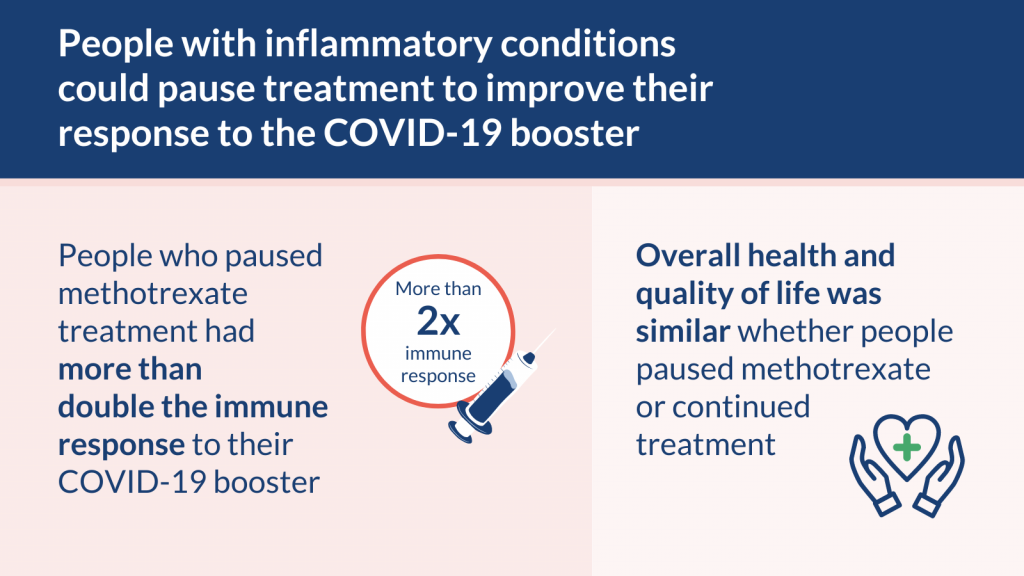 The issue: methotrexate could reduce the effectiveness of vaccines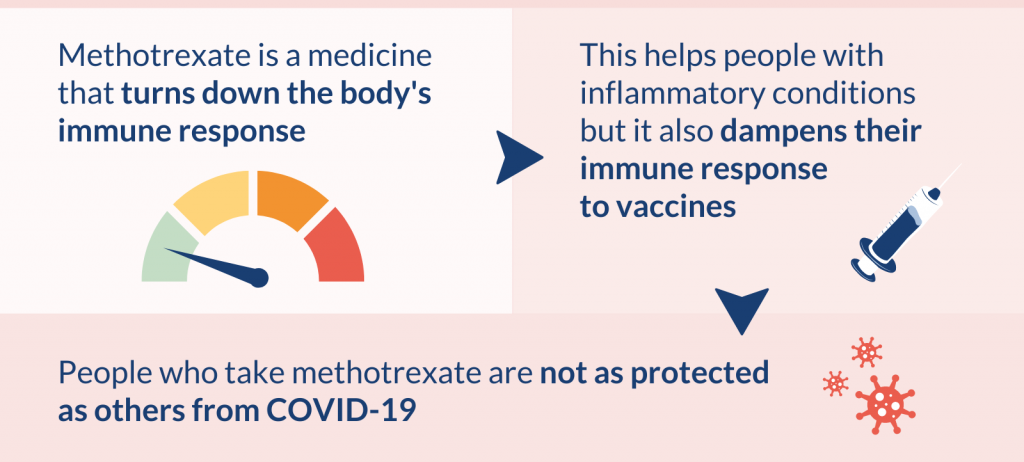 Methotrexate helps reduce inflammation and is used to manage conditions such as psoriasis and rheumatoid arthritis. However, because it dampens the body's immune response, it could reduce the protection that vaccines give.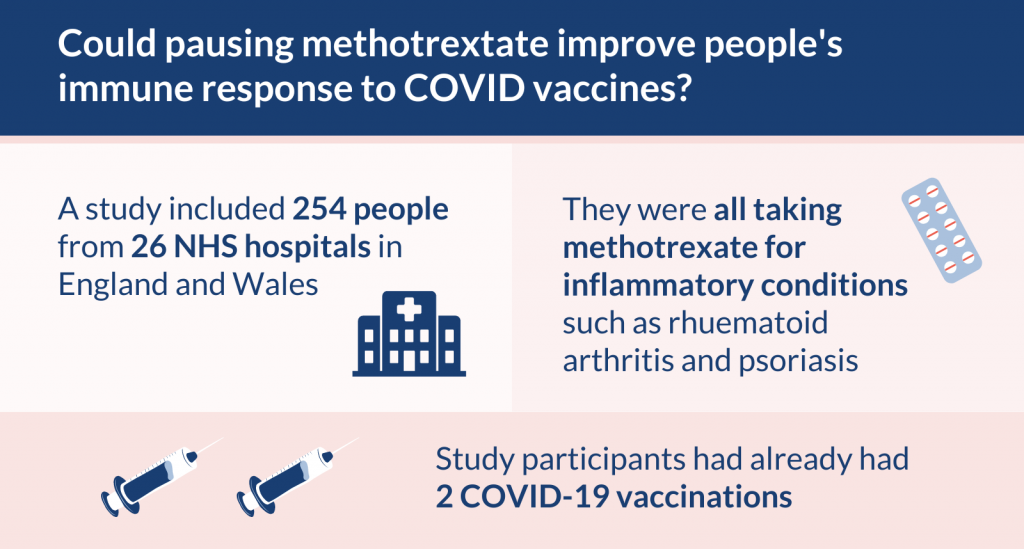 The study included 254 people, from 26 hospitals, who were taking methotrexate. Half paused their treatment immediately after receiving a COVID-19 booster vaccine and half continued it. Their immune response was measured after 4 and 12 weeks.
What's new?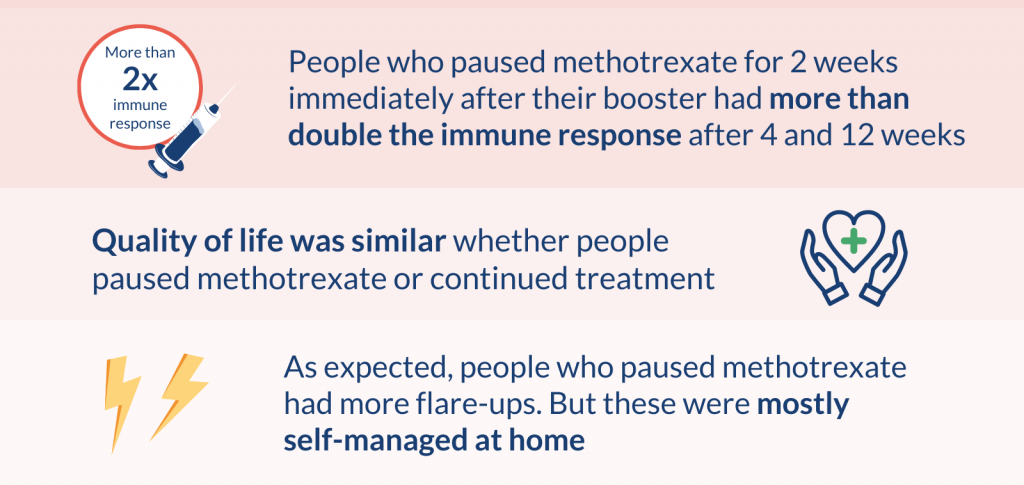 People who paused methotrexate for 2 weeks immediately after their booster had a better immune response to the vaccine. As expected, they had a temporary worsening of their condition and more flare ups (such as sore joints or itchy patches of skin). But these were mostly managed at home. Quality of life and general health were similar whether people paused methotrexate or continued treatment.
In conclusion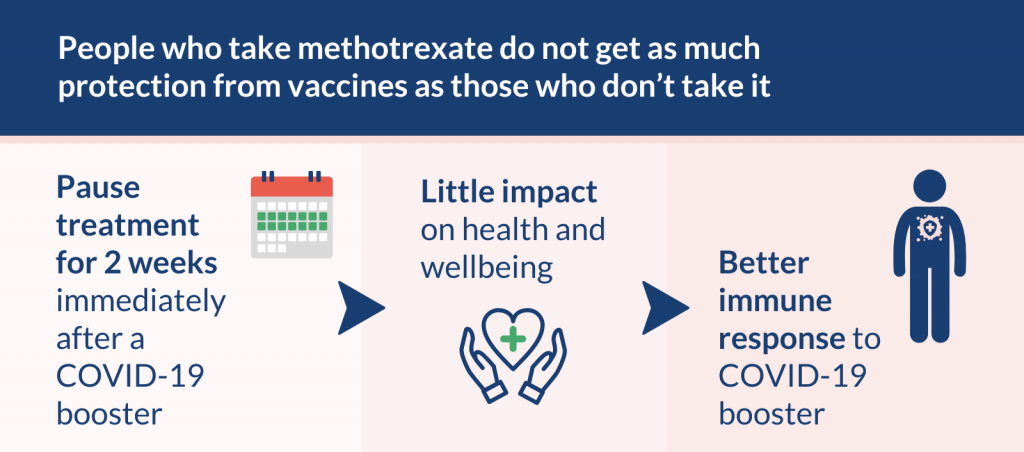 People with inflammatory conditions could pause methotrexate immediately after their booster vaccine to enhance the body's immune response. This may offer more protection from COVID-19 infection.
What's next?

Participants' immune response will be measured 26 weeks after they received their booster to see if their improved immune response lasts. Other research could investigate if people's improved immune response to the booster leads to fewer or less severe COVID-19 infections.
You may be interested to read
This Alert is based on: Abhishek A, and others. Effect of a 2-week interruption in methotrexate treatment versus continued treatment on COVID-19 booster vaccine immunity in adults with inflammatory conditions (VROOM study): a randomised, open label, superiority trial. Lancet Respiratory Medicine 2022;10:840-50.
A patient-friendly summary of the study from National Rheumatoid Arthritis Society.
An animation summarising the study results.
Easy-to-read information about the COVID-19 vaccine.
Information from the NHS on the drug methotrexate.
Read more NIHR Evidence Alerts on the COVID-19 vaccine
Funding: The study was funded by NIHR Efficacy and Mechanism Evaluation Programme.
Conflicts of Interest: View the original paper for all declared conflicts of interest.
Disclaimer: NIHR Alerts are not a substitute for professional medical advice. They provide information about research which is funded or supported by the NIHR. Please note that views expressed in NIHR Alerts are those of the author(s) and reviewer(s) at the time of publication. They do not necessarily reflect the views of the NHS, the NIHR or the Department of Health and Social Care.
---