This is a blog about an original research article, written by the main author
---
"The single biggest problem with communication is the illusion that it has taken place."

George Bernard Shaw
Once upon a time, a conference presentation and publication in an academic journal were the extents of a researcher's responsibility to share the results of their research. People assumed that those who could use the findings to make a difference would be actively looking for the latest information. They would know where to look, and when they came across the academic paper, they would have the time and knowledge to read and make sense of it.
We are increasingly recognising that most evidence users do not have the time and capacity to do this. Besides, research is often behind paywalls and inaccessible. In the words of Chris Whitty, the Chief Medical Officer for England, research is no use unless it gets to the people who can use it. As a research community, we need to do much more to communicate our research effectively.
Funders such as the UK's NIHR are – unsurprisingly - placing increasing importance on effective dissemination. Creating open, fun, and accessible content is one approach.
A creative approach to dissemination
Our recent paper describes our use of creative communication tools (illustration, podcasts, infographics, blogs, briefing papers, board games, and social media shareable content) to share our research. We outline the advantages and disadvantages of each tool. Wherever possible, we involved evidence users in planning and developing the products. For each example, we asked:
What are the key messages?
Who needs to know about them?
How can we get the messages to the people who can use them?
These 3 questions guided the development of a dissemination plan for each paper. The plan outlines key messages, identifies potential audiences, and explores suitable format(s) and outlets. It makes the most of existing networks and opportunities.
We collaborated with an artist, Grace Elizabeth, to create an infographic that presents the summary points for creative techniques alongside their advantages and disadvantages.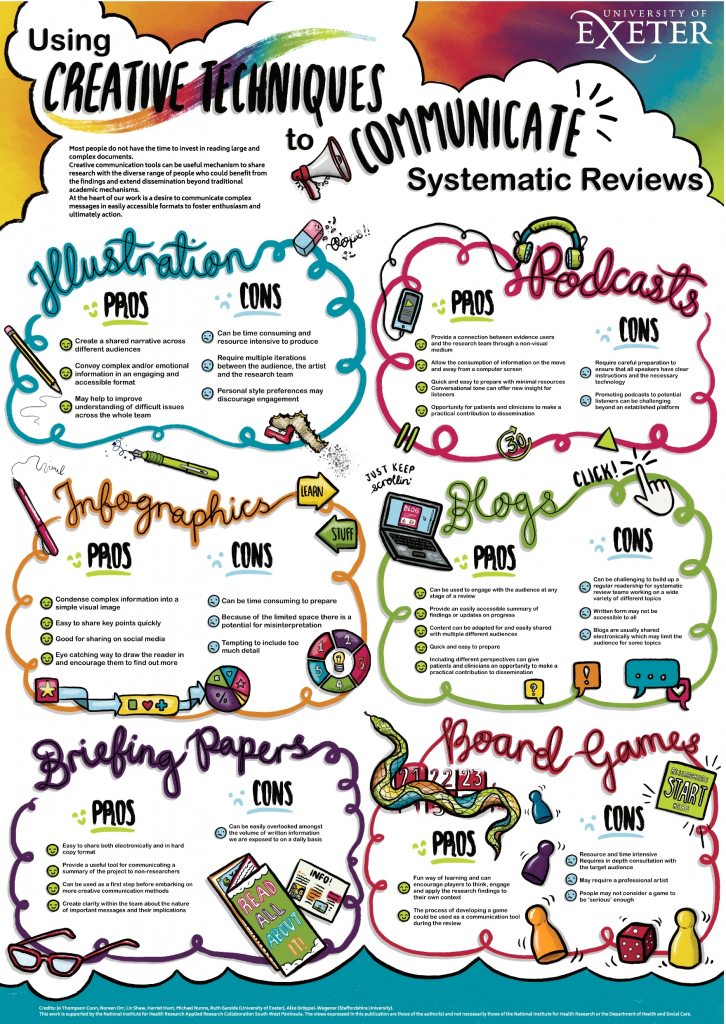 Pros and cons of creative techniques
Some techniques suit some audiences and some research projects better than others. For example, social media content is relatively quick to create. Key messages from a published paper can be shared in an eye-catching format. But nuance can be compromised in the limited space available on social media. Infographics condense complex information into a single image and, again, help share key points quickly. But we found it was tempting to include too much detail; limited space meant results could be misinterpreted.
Board games could encourage players to think, engage and apply the findings to themselves. But they take time and resources (including a professional artist) to produce. Some users may not consider a game to be serious enough.
Podcasts allow people to listen on the move, away from a computer screen. A conversational tone can bring listeners new insights but it is challenging to promote one-off podcasts without an established audience.
One size does not fit all
There is a growing appreciation of the way in which individuals consume information. Some of us prefer to read, some like images, some prefer to listen to podcasts or watch short videos. These preferences are probably unrelated to our professional identity and may change depending on what we need the information for. It is possible, for example, that our interest is piqued by an engaging illustration or graphic. We might take the information that we need from the graphic, or we may follow a link to find out more about a project from a blog or plain language summary. Or we may continue to read the full academic paper. Images can help attract attention and can boost learning and recall. Using several methods to communicate research is likely to appeal to different learning styles and make the research accessible for a wider audience.
In summary:
for research to be useful, it needs to reach the people who can use it in a form they find engaging and accessible
there are many types of communication techniques, each with advantages and disadvantages
using several techniques is likely to increase accessibility, as different formats will work best for different people
involving evidence users in producing and sharing products will help ensure that products meet the needs of the audience and make best use of existing networks
creative approaches need to be intentional and planned, ideally from the start of the project.
"Science isn't finished until it is communicated,"

Sir Mark Walport UK Chief Scientist, 2013
You may be interested to read
This blog is based on: Thompson-Coon J, and others. Bursting out of our bubble: using creative techniques to communicate within the systematic review process and beyond. Syst Rev.2022; 11:56.
More information about planning how to share your research with the people who can use it to effect change. 
---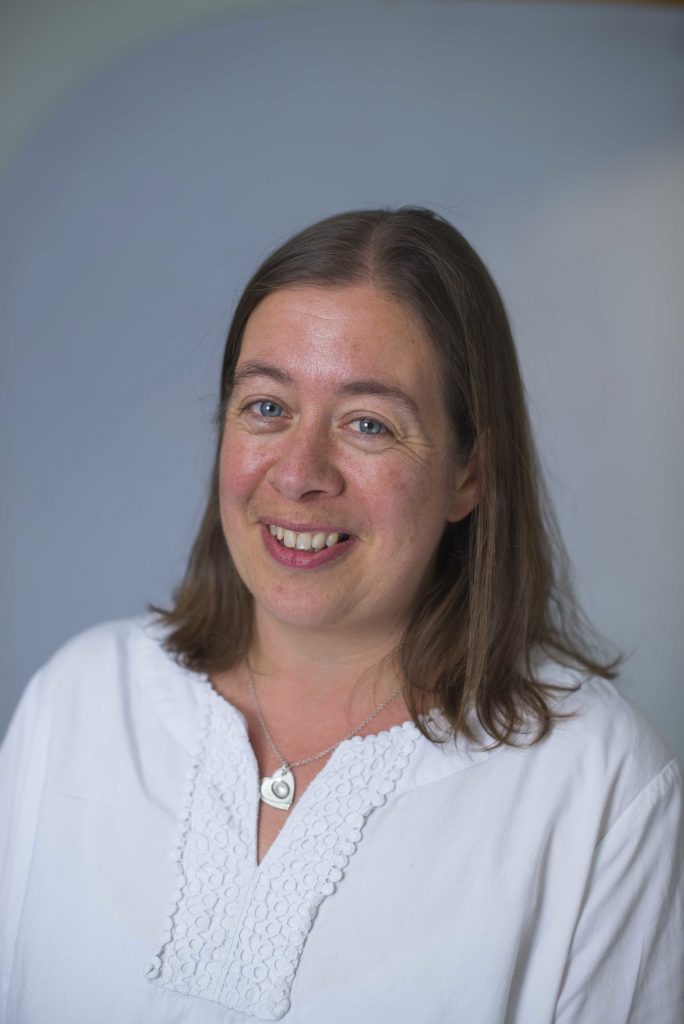 In October 2019, 4 of the authors travelled to the Cochrane Colloquium in Santiago, Chile. While they were in the air, the colloquium was cancelled due to civil unrest. Unable to leave their hotel, they determined to make the most of their time together. Thanks to the care and hospitality of the hotel staff (and the fabulous views of the Andes), they were able to produce the first draft of the paper. On return to the UK, they invited others to contribute their experiences to increase the diversity of examples discussed.
---
Most people do not have the time to invest in reading large and complex documents. Creative communication tools can be a useful mechanism to share research with the diverse range of people who could benefit from the findings and extend dissemination beyond traditional academic mechanisms. At the heart of our work is a desire to communicate complex messages in easily accessible formats to foster enthusiasm and ultimately action.
Illustration
Pros:
Create a shared narrative across difference audiences
Convey complex and/or emotional information in an engaging and accessible format
Many help to improve understanding of difficult issues across the whole team
Cons:
Can be time consuming and resource intensive to produce
Require multiple iterations between the audience, the artist, and the research team
Personal style preferences may discourage engagement
Podcasts
Pros:
Provide a connection between evidence users and the research team through a non-visual medium
Allow the consumption of information on the move and away from a computer screen
Quick and easy to prepare with minimal resources. Conversational tone can offer new insight for listeners
Opportunity for patients and clinicians to make a practical contribution to dissemination
Cons:
Require careful preparation to ensure that all speakers have clear instructions and the necessary technology
Promoting podcasts to potential listeners can be challenging beyond an established platform
Infographics
Pros:
Condense complex information into a simple visual image
Easy to share key points quickly
Good for sharing on social media
Eye catching way to draw the reader in and encourage them to find out more
Cons:
Can be time consuming to prepare
Because of the limited space there is a potential for misinterpretation
Tempting to include too much detail
Blogs
Pros:
Can be used to engage with the audience at any state of a review
Provide an easily accessible summary of findings or updates on progress
Content can be adapted for and easily shared with multiple different audiences
Quick and easy to prepare
Including different perspectives can give patients and clinicians an opportunity to make a practical contribution to dissemination
Cons:
Can be challenging to build up a regular readership for systematic review teams working on a wide variety of different topics
Written form may not be accessible to all
Blogs are usually shared electronically which may limit the audience for some topics
Briefing papers
Pros:
Easy to share both electronically and in hard copy format
Provide a useful tool for communicating a summary of the project to non-researchers
Can be used as a first step before embarking on more creative communication methods
Create clarity within the team about the nature of important messages and their implications
Cons:
Can be easily overlooked amongst the volume of written information we are exposed to on a daily basis
Board games
Pros:
Fun way of learning and can encourage players to think, engage and apply the research findings to their own context
The process of developing a game could be used a communication tool during the review
Cons:
Resource and time intensive. Requires in depth consultation with the target audience
May require a professional artist
People may not consider a game to be 'serious' enough
Credits: Jo Thompson-Coon, Noreen Orr, Liz Shaw, Harriet Hunt, Michael Nunns, Ruth Garside (University of Exeter), Alke Groppel-Wegener (Staffordshire University).
This work is supported by the National Institute for Health Research Applied Research Collaboration South West Peninsula. The views expressed in this publication are those of the author(s) and not necessarily those of the National Institute for Health and Care Research or the Department of Health and Social Care.
---