View commentaries on this research
---
This is a plain English summary of an original research article. The views expressed are those of the author(s) and reviewer(s) at the time of publication.
Young people's life goals should be given as much attention as their blood sugar levels in diabetes appointments. New research suggests that more focus on their interests and priorities would increase their engagement with diabetes services. This is especially important for those from disadvantaged or ethnic minority communities, who are most likely to miss appointments and be considered 'disengaged' by their clinician.
This study included children and young people who were labelled 'disengaged' with their diabetes care. Interviews explored what they would like to change about current diabetes services.
Young people said they wanted to fit in socially, and to be able to take part in religious festivities (fasting, or eating traditional foods). They had more trouble controlling their blood sugar around stressful times, such as exams. They felt criticised and as if they had failed if their blood sugar control was not good at an appointment.
Consultations often focus solely on blood sugar levels. This research suggests healthcare teams need to be more aware of the wider priorities of children and young people. Appointments should be used to discuss what the child or young person wants to achieve and what they have going on in their lives. Professionals could use this information to aim for a more realistic blood sugar target.
Stressful times have an impact on blood glucose levels, and hormones can cause spikes. Both healthcare teams and young people need to understand the impact of everyday life on diabetes control. This could empower children and young people to engage in their diabetes appointments from an early age.
Further information on local diabetes information and support services is available on the NHS website.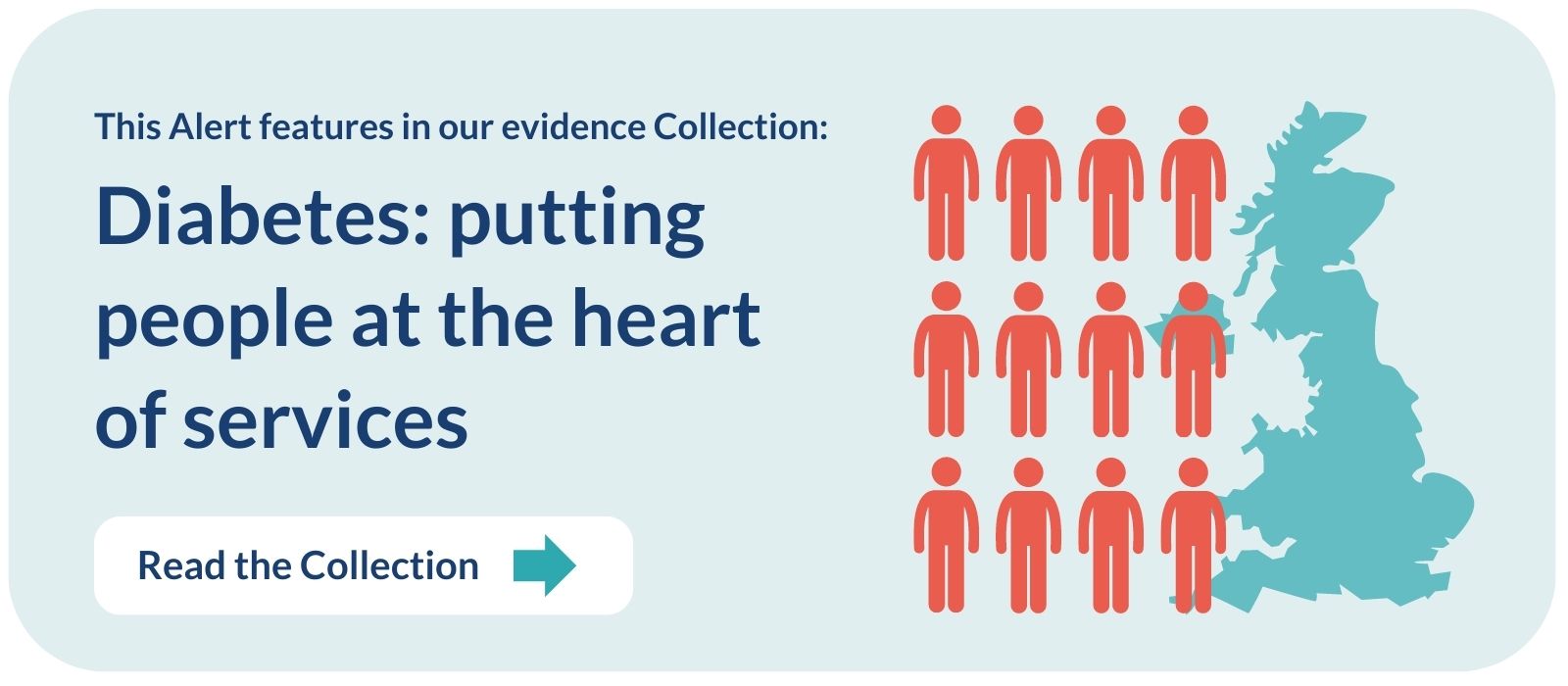 What's the issue?
In the UK in 2019, around 36,000 children and young people under 19 years had diabetes. This means either they cannot produce a hormone called insulin (which controls blood sugar levels) or the insulin has become ineffective.
Good control of blood sugar levels reduces the risk of long-term complications, including eye and kidney disease. The focus of diabetes appointments has therefore been to help young people control their blood sugar.
Children and young people with diabetes miss more appointments than other age groups. In addition, many are lost from the system when they move from child to adult services.
Previous research found that children and young people often feel 'silenced' during diabetes appointments. Parents who want to be in charge of their child's diabetes care plan can make this worse.
A diabetes care plan includes activities such as checking blood sugar levels, eating a diet low in saturated fat, and checking feet to make sure there are no sores. However, self-care for children and young people is more complex than this. They are going through puberty, establishing friendships, taking exams, and so on, which can make it difficult for them to adhere to such plans.
The researchers wanted to hear from children and young people from socially disadvantaged and ethnic minority backgrounds. Both these groups have high rates of diabetes and experience health inequalities. They believe that listening to these young people is a first step in overcoming barriers to diabetes care and improving self-care in these groups.
What's new?
The research team worked with young people (16-25 years) who had diabetes to design the study. These young investigators reviewed all study documents, including the study design, the information sheets for participants and the interview outline.
The study itself included 22 young people (10-19 years) with type 1 or 2 diabetes. They came from ethnically diverse backgrounds and lived in one of two disadvantaged boroughs in London. Most (64%) were girls, and most had type 1 diabetes. They had all been described by their clinicians as 'disengaged' from diabetes services, meaning they had either missed appointments or were not adhering to their diabetes care plan.
Participants were interviewed, usually in their own homes. They could choose where and when interviews took place. They were asked about their experience of diabetes, including changes they would like to see and what an ideal diabetes service would look like.
Four themes emerged.
Stigma
Most wanted to fit in with peers. Young people who spent a lot of time outside with friends were especially keen to hide their vulnerabilities. They often felt scrutinised when they were at the clinic.
Faith-based identity
Some had a belief system that influenced their self-care; this could have a positive or negative impact on their diabetes control. For instance, Muslim participants did not drink alcohol (positive) but wanted to fast and feast around Ramadan (negative). Many other festivals and rituals required a break from routine eating patterns.
Support in schools
School environments influenced decisions about self-care. Friends could be a source of support; teachers and other staff could remind pupils to test their blood and to eat regularly. A special room where children can inject insulin also helped.
Young people found their blood sugar more difficult to control at stressful times such as during exams. Going to university was challenging for them because of the need to juggle studies with organising doctors' appointments and prescriptions.
Self-management
Young people knew they needed to make changes because of their diabetes. This could mean eating less to avoid having to reinject with insulin, for example, or limiting hobbies such as intense boxing training. Some felt angry about needing to make changes. In addition, many did not want to go to appointments if they knew their blood sugar levels might be high. This could lead to them being wrongly labelled as 'disengaged' from services.
Young people and clinicians were both unwilling to discuss feelings. This meant opportunities were missed to support young people to keep up with activities they liked.
Why is this important?
This research shows the importance of listening to young people, especially when they become disengaged with healthcare services. The interviews highlighted missed opportunities to educate and support young people with diabetes. The study concluded that healthcare professionals should give more priority to young people's life plans and understand that life plans are as important to them as their diabetes control.
Better understanding of the conflicting pressures felt by young people with diabetes could help healthcare teams remove barriers to good care. Plans need to be more realistic, deviations from plans should be expected, and young people should not be criticised or reprimanded for having poor diabetes control.
Stressful life events and changing hormone levels can cause high blood sugar, regardless of whether a plan is being followed strictly. Exploring the reasons behind poor control and encouraging discussion about forthcoming or recent events in the context of diabetes, could support young people.
The move into adult services and self-care often coincided with young people disengaging with services. Researchers recommended better co-ordination to support this transition.
The study also noted that teachers and school staff, particularly those in less advantaged areas, were well-placed to support young people but lacked training in diabetes.
What's next?
The study is part of a larger project that has informed commissioning guidelines for diabetes services for young people in poor and ethnically diverse communities in London. Its findings indicate that this group of young people lack trust in healthcare professionals. This study included interviews with 22 young people; a further 25 agreed to an interview but did not attend. Better understanding of the reasons for this could provide additional insights into barriers to engaging with diabetes services.
NHS policy recommends person-centred care plans in England. However, person-centred care is offered in an ad hoc manner; it is not routinely delivered. This study recommends that healthcare professionals use appointments to encourage trust. Frank and honest discussions covering lifestyles, behaviour and identity would be more helpful than focusing on blood sugar levels.
The researchers hope their recommendations will improve engagement with diabetes services. They say that professionals and young people working together could set realistic expectations and make best use of medical resources.
You may be interested to read
This Alert is based on: Sharpe D, and others. Supporting disengaged children and young people living with diabetes to self-care: a qualitative study in a socially disadvantaged and ethnically diverse urban area. BMJ Open 2021;11:e046989
A study from which the present study emerged: Sharpe D, and others. 'It's my diabetes': Co-production in practice with young people in delivering a 'perfect' care pathway for diabetes. Research for All 2018;2:289–303
Young Commissioners Model: Co-designing community based services - a video about including 'young commissioners' to co-design research.
Funding: This study was supported by the NHIR North Thames Collaborations for Leadership in Applied Health Research and Care.
Conflicts of Interest: The study authors declare no conflicts of interest.
Disclaimer: NIHR Alerts are not a substitute for professional medical advice. They provide information about research which is funded or supported by the NIHR. Please note that views expressed in NIHR Alerts are those of the author(s) and reviewer(s) and not necessarily those of the NHS, the NIHR or the Department of Health and Social Care.
---