Musculoskeletal problems are the leading cause of pain and disability in the UK. Characterised by pain and loss of function, these conditions can diminish quality of life, impact on family and social relationships, make everyday activities difficult and limit a person's capacity to work. Physiotherapy is important for preventing and reducing the negative impacts of musculoskeletal conditions.
Moving Forward provides an overview of research funded by the NIHR and others, focusing on physiotherapy and the role of physical activity in treating these conditions and maintaining musculoskeletal health and wellbeing. The research featured shows that physiotherapy services can improve patients lives and reduce healthcare costs.
DOI: 10.3310/themedreview-02995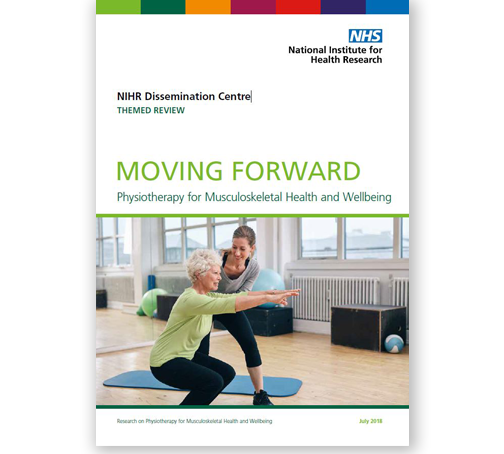 Moving Forward - Physiotherapy for Musculoskeletal Health and Wellbeing
This review highlights evidence from the NIHR and others on why research in this area matters, assessment and matching patients to treatment, restoring musculoskeletal health and maintaining musculoskeletal wellbeing.
It features:
37 published studies
25 ongoing research projects
Questions to ask your physiotherapy musculoskeletal services
Produced by the University of Southampton on behalf of NIHR through the NIHR Dissemination Centre
---