View commentaries on this research
---
Discover 7 research findings that could save the NHS money while also improving care.
The NHS strives to continually improve the quality of care it delivers, while also reducing costs. Spending less does not have to mean providing a poorer service. The NHS Long Term Plan requires efficiencies that include reductions in administration costs, changing the way medicines are prescribed, and acting on research evidence.
In this Collection, we build on our previous work in 2018 and 2020 to highlight 7 ways in which research could both save the NHS money, and provide better care. The studies we have included all featured as recent NIHR Evidence Alerts. The Collection provides useful information for those commissioning and delivering services, and for members of the public. We want to help the NHS make use of research to provide value for money and better care for patients.
NHS commissioners, managers and staff could consider the following:
Hospital at home is a good option for many older people
Being cared for at home is a good alternative to hospital for many older people, research found. The service, called hospital at home, led to no more deaths after 6 months or 1 year than among people admitted to hospital. It included a complete geriatric assessment along with care from different NHS specialists. All participants had access to hospital-based services when needed (including admissions), and primary care.
People receiving hospital at home were less likely to be admitted to a care home (a sign they are not coping at home), and it cost less than hospital care. The researchers took into account NHS, personal social care, and informal care costs. It was not suitable for all older people, such as those who are most seriously unwell. The study estimated that the service could save £3,071 per patient. In addition, people and their carers preferred hospital at home over hospital care.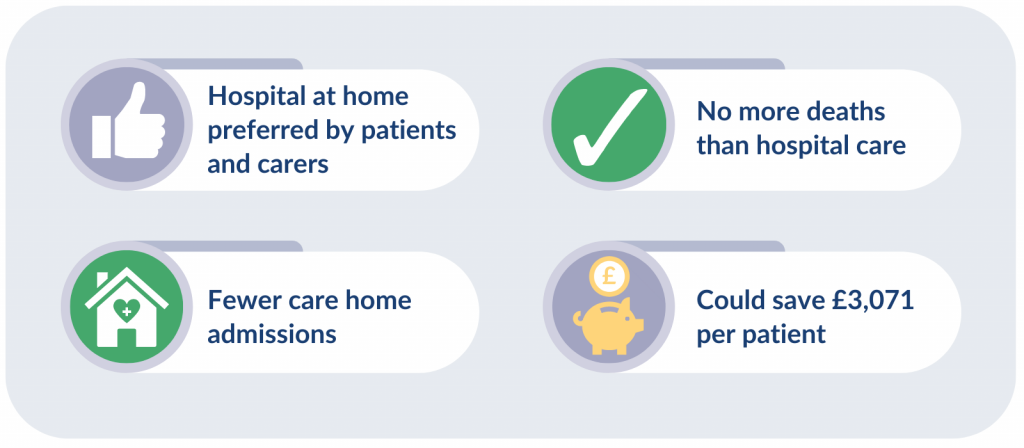 Read the Alert: Hospital at home is a good option for many older people
Online CBT for post-traumatic stress disorder is as effective as face-to-face therapy
Access to therapy for people with post-traumatic stress disorder (PTSD) is limited. Researchers assessed a type of cognitive behavioural therapy (CBT) designed to address trauma. Delivered online, supported by a therapist, this CBT was as effective as, and cheaper than, the same therapy given face-to-face.
This study included people with mild-to-moderate PTSD. It found that the online course cost £277 per person, compared to £729 per person for face-to-face therapy. Online therapy may be available to people sooner, and is more flexible than face-to-face sessions; it can accommodate their work and childcare commitments. It might also be more acceptable to people with PTSD who struggle to leave their homes.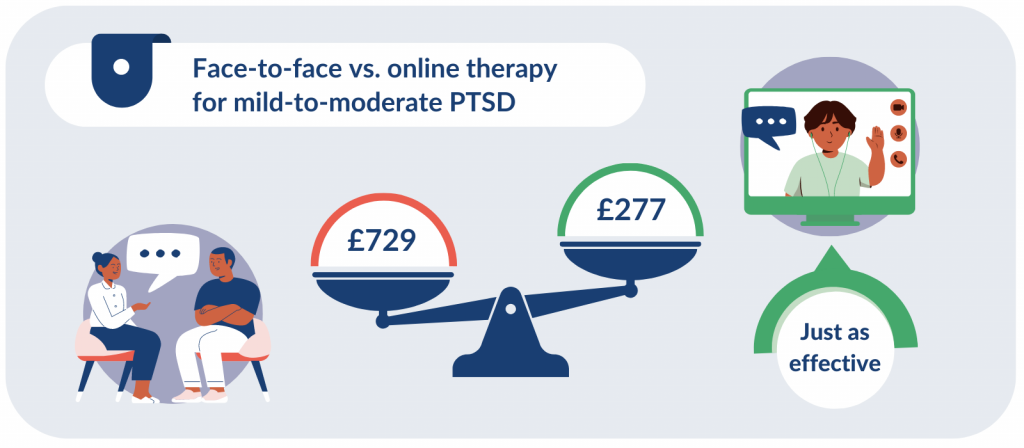 Read the Alert: Online CBT for post-traumatic stress disorder is as effective as face-to-face therapy
Pills that reduce stomach acid do not improve persistent throat symptoms
Drugs called proton pump inhibitors (PPIs) reduce the production of stomach acid. They are increasingly used to treat persistent throat symptoms such as 'a lump in the throat', a cough or throat clearing. This is because the symptoms were thought to be caused by stomach acid entering the throat.
However, new research found PPIs offer no benefit over dummy pills. The researchers say these drugs should not be prescribed to treat throat symptoms. This could save the NHS up to £4 million a year. People who reduce their intake of unnecessary medications would also benefit from reduced side effects.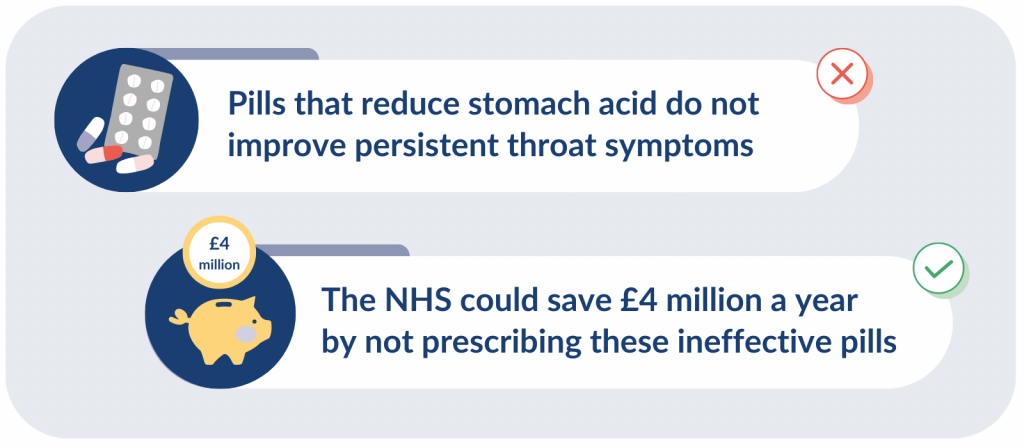 Read the Alert: Persistent throat symptoms should not be treated with pills that reduce stomach acid
Most people undergoing planned surgery do not need compression stockings
Research shows that compression stockings might be unnecessary for most people undergoing planned surgery. A trial was carried out among people at moderate or high risk of blood clots. It found that taking anti-clotting medicine alone was just as effective as combining it with compression stockings.
The researchers suggest that compression stockings should no longer be standard care for most people having planned surgery who are taking anti-clotting medicine while in hospital. This could save the NHS in England around £63 million per year as well as easing discomfort for patients.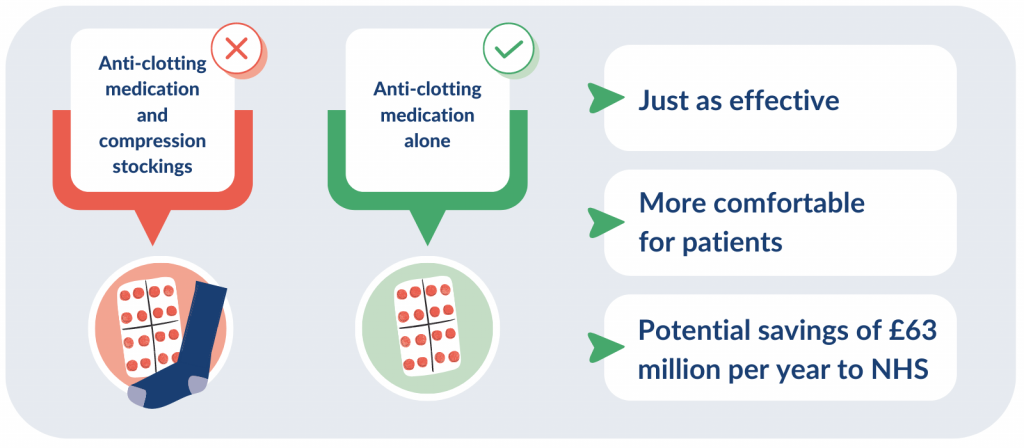 Read the Alert: Most patients undergoing planned surgery do not need compression stockings
A plaster cast can safely and cost-effectively treat a broken wrist
A moulded plaster cast is a safe and cost-effective alternative to surgery for a distal radius fracture (a common break where the forearm meets the wrist joint).
Researchers found that casts were as effective as surgery using wire for most patients. Wrist pain and function were similar, regardless of which approach was taken.
1 in 8 people who had a cast required surgery in the first 6 weeks. Even so, the cost analysis suggests that adopting this approach could save hundreds of thousands of pounds as well as freeing up surgical time and theatre capacity.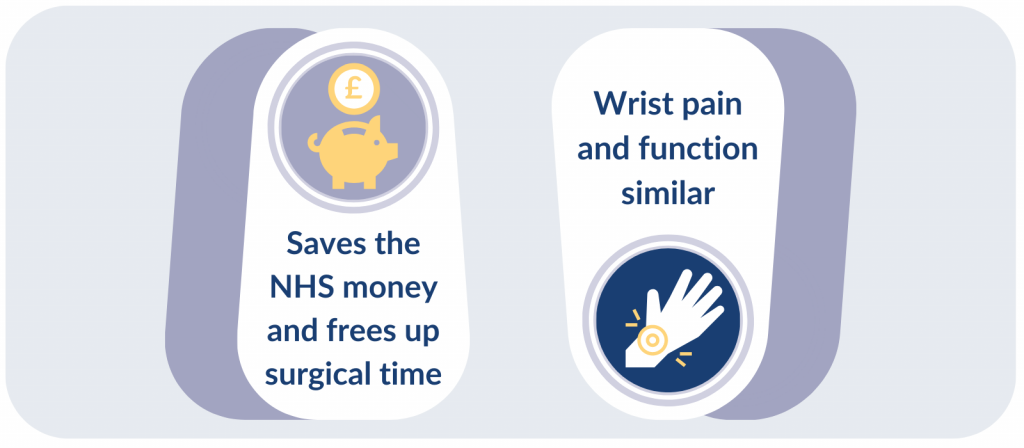 Read the Alert: A plaster cast can safely and cost-effectively treat a broken wrist
No benefit from the switch to more expensive anticoagulation in intensive care
This research calls into question current guidelines for kidney replacement therapy (in which a machine takes over the kidney's functions) in intensive care units. The guidelines recommend citrate- over heparin-based anticoagulation.
A large study compared intensive care units that continued using heparin, to those that switched to the newer citrate anticoagulation. It found no clear benefit to patients from the switch to citrate anticoagulation. Citrate anticoagulation was also more expensive in the short-term.
Around 1 in 10 adults in intensive care need kidney replacement therapy. Using 2021 figures, this equated to more than 12,500 people. Using heparin instead of citrate anticoagulation, the NHS could save £2,376 per patient.
The researchers recommend that similar studies should examine other changes to clinical practice that are based on limited evidence. These could identify more potential savings for the NHS.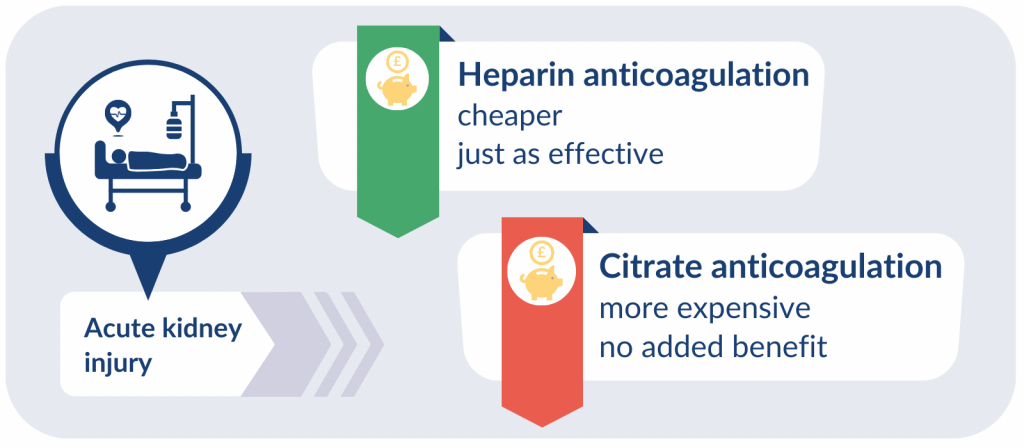 Read the Alert: No benefit from the switch to citrate anticoagulation in intensive care for the treatment of kidney injury
Many people having joint replacements can safely stop routine follow up in the 1 to 10 year period after surgery
The NHS spends roughly £100 million per year on follow-ups after surgery. Research found that most people who had straightforward hip and knee replacements using UK-recommended joints can safely stop routine follow-up in the 1- to 10-year period after surgery.
Reducing follow-ups, and the clinical tests that do not add benefit, could create savings and give specialists time to treat people on the waiting list. Patients would benefit from not attending unnecessary appointments.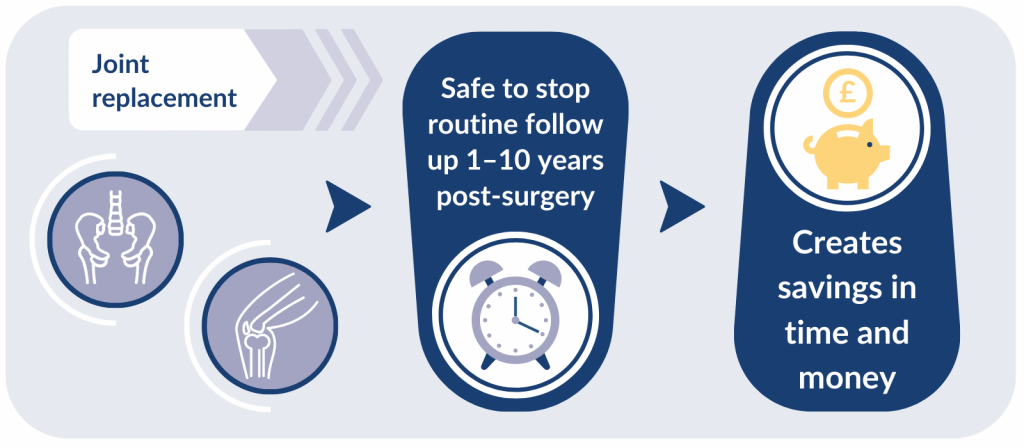 Read the Alert: Joint replacements: many people can safely wait 10 years for follow-up
---
Disclaimer: This publication is not a substitute for professional healthcare advice. It provides information about research which is funded or supported by the NIHR. Please note that views expressed are those of the author(s) and reviewer(s) at the time of publication. They do not necessarily reflect the views of the NHS, the NIHR or the Department of Health and Social Care.
---